A camp cot can make a big difference in your outdoor experience. You won't have to worry about those small rocks that can always end up under your tent (and poke you in the back) or rain leaking in and waking up in a soggy sleeping bag. But what is the best camping cot?
Our Top Picks
**You'll find our more detailed reviews below, but you can also click the links above to see current prices or read customer reviews on Amazon.
Table of Contents
What To Look For In Your Camping Cot
There are a few things I look at when choosing a cot. They are:
1. Weight And Portability
These are most important if you are hiking. Lugging around a heavy cot will probably make you decide to leave it home next time, no matter how comfortable it is. If you are driving to your campsite, then you can skip this part.
For a cot I need to carry, I try to stay under 15 lbs. Anything more than that can become burdensome. Also, look at the portability of it. Does it fold up to a manageable size? Is it large and flat or in a bag?
Can you throw a strap over your shoulder or tie it to a backpack or does it have a handle like a briefcase? Briefcase style cots are nice if you are driving to the campsite, but you should stay away from them if you are hiking to it.​
---
2. Strength (Quality)​
Having a cot break or the canvas split while you are sleeping is a frightening and possibly painful experience. This happened to me and now I carefully examine any cot I am considering. I also read customer reviews to look for any issue. It needs to be rated for your weight plus about fifty lbs.
Check the materials and the stitching on the canvas, the thickness of the frame and legs, and look at the fasteners that hold the whole thing together. Riveted aluminum can sometimes be a weak spot.
Look for snap-together frames or even bolt together frames. As long as you don't overtighten the bolts they should make for a stronger cot. If anything looks iffy then move on to another one. Better safe than sorry.​
---
​3. Comfort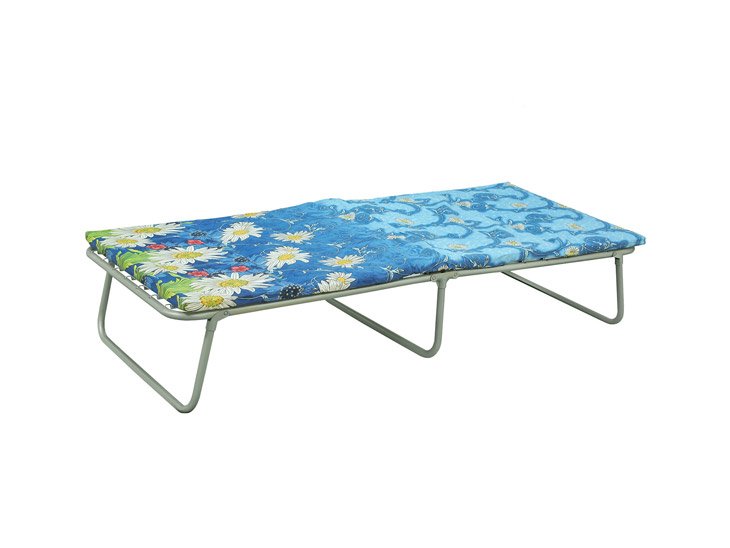 ​A good cot needs to be as comfortable as possible. It should have a solid base with a little padding, sturdy legs, and frame so it doesn't wiggle when you adjust yourself. You can place a sleeping pad on the cot or use a sleeping bag for extra padding if needed.
---
4. ​Dimensions
​Width
You will want to make sure the cot is wide enough for you to move around. It needs to have enough room for your arms to be completely on the cot and your shoulders not resting on the frame rails. Just make sure to consider the size of your tent when choosing. You will want room around the cot in the tent for your supplies.
Length
I would suggest your camping cot be 6 to 12 inches longer than your height. Any shorter than that and either your feet will be hanging off the end or your pillow will be on the ground in the morning. Again, consider your tent when looking at length.
​Height
The height of your cot is basically a personal preference. While a lower cot can be slightly cooler in the summer and a taller one will be slightly warmer in the winter, if you are in a tent, the difference is minimal. Just pick the one that is a comfortable height for you.
I like the taller ones because it is a little easier for me to get out of in the morning and more comfortable to sit on while putting on my socks and boots in the morning. You can also store items underneath a taller cot. But if you have a short tent the shorter legged cot may be the best choice for you.
---
5. ​Storage Compartments
With the advances in cots recently, I feel I need to mention storage compartments. Some of the really nice cots out there now have hanging compartments where you can store your wallet, keys or even your firearm if you are carrying one.
This can be a big convenience because everything will be in your immediate reach and if the tent floor leaks, your belongings will stay dry. This will be a personal preference, but it is something you will want to consider when choosing your cot.​
---
6. ​Cost
When it comes to cots, you are only limited by how much you want to spend. The prices range from a little over twenty dollars to over seven hundred depending on the features. There are hundreds of choices out there and you can't always rate the quality by the price.​
How To Setup A Camping Cot
Now let's look at my choices for the best cots for camping.
Top 5 Camping Cots
**You'll find our more detailed reviews below, but you can also click the links above to see current prices or read customer reviews on Amazon.
Our Ratings
This is a nice cot. At 11.6 lbs., it is light. When packed up in the carrying case, it is a small, manageable package that will fit in or easily hang behind most packs. The five legs make it stable on the ground to reduce rocking.
I like the fact that the polyester fabric is mildew resistant and you can throw it in the washing machine if it gets dirty. It also comes in a larger size that is 84 inches long and 42 inches wide for larger people and added comfort.
I own this cot and it is very handy to have around. I have spent around 100 hours sleeping on this cot and have always woke up refreshed. I feel the cost is reasonable and have never regretted buying it. This cot has never given me any problems.
Weight: 11.6 lbs
​Width: 25.6 inches
Length: 76 inches
Height: 8 inches
Packed Dimensions: 27.6″Lx8.7W"x3.5″H
Capacity: 250 lbs
Extras: Carrying bag.
---
Pros
Light, small, easy to hang behind your pack.
Sturdy.
Mildew resistant and washable with a washing machine if dirty.
Larger size is available.
Reasonable cost.
---
Cons
Tight canvas.
A little difficult to assemble the first time.
---
Our Ratings
I really like this cot. When I take someone with me on a camping trip, this is the one they usually choose. This cot is versatile, light and sturdy.
Set up is easy without having to put a lot of muscle into attaching the legs. You are able to adjust the firmness for more comfortable sleeping. Almost a foot and a half high, it is easy to get in and out of and your pack will stow underneath it to give you more room in your tent.
The 37-inch carrying case helps to keep your belongings off the ground by attaching them to the legs of the cot. It is easy to assemble and light enough to pack with you to that out of the way campsite. Overall this is a good choice for a long-term, regular use camping cot.
There is also a large and an extra-large version of this cot. The extra-large version has a third set of legs, is a little wider, and holds up to 300 lbs. All versions have rubber boots on the bottom of the legs to protect the floor of your tent. This cot breathes well and it works well in the summer.
Weight: 10.9 lbs
Width: 28 inches
Length: 74 inches
Height: 15 inches
Packed Dimensions: 37″x5″ dia rolled
Capacity: 250 lbs
Extras: The carrying case converts into a storage compartment to hold essentials
---
Pros
Versatile, light and sturdy.
Easy to setup, get in and out of.
Large and extra-large versions are available.
Rubber boots to protect the tent floor.
Well-breathing material.
---
Cons
A pad or a sleeping bag is necessary to stop the cold from coming through the canvas in the winter.
---
Our Ratings
This cot is one of the easiest to set up I have come across. You just pull it out of the bag and open it up. And it goes easily back into its bag when it is time to go. It is just the right size for the average adult and it is reasonably priced.
I like that it is 14 inches high so I can store my pack under it. It even has a strap running across the middle that adds back support. It has a fine mesh canvas so it stays cool in the summer. It's 5 sets of legs make for strong support so you shouldn't feel any wobble while you are resting.
It weighs 15 lbs. if you are comfortable with the extra weight it is a good cot to take on your hike, otherwise, I would save it for a drive to campsite. In the winter time you will need a pad to stop the airflow, but since you will probably be in a sleeping bag I really don't see that as an issue.​
Weight: 15 lbs
Width: 27 inches
Length: 74.8 inches
Height: 14 inches
Packed Dimensions: 38.6 x 7.8 x 7.8 inches
Capacity: 450 lbs
Extras: Carrying Bag
---
Pros
Quick-to-deploy design.
Suitable the average adult and reasonably priced.
Convenient height to store a pack underneath.
Very good support with middle strap and 5 sets of legs.
Breathable material.
---
Cons
​Extra weight.
Sleeping pad is necessary in winter.
---
Our Ratings
As you can see, this is a cot and a tent. It is big enough that you can move around inside it and it is very comfortable. With its four windows, you will have airflow if the flaps are open, and not have to worry about the mosquitoes either.
Some models even have an optional rainfly to keep you dry in wet weather. On top of all that, it can be configured into a lounge or a chair. This sets up quick and easy with very little effort.
When you consider that it's a tent and a cot the weight is not that bad. You can even get a double-size version. Overall it is a nice option and it is reasonably priced. For a drive to the campsite, this is a great option.
Weight: 24 lbs
Width: 32 inches
Length: 90 inches
Height: 11 inches
Packed Dimensions: 6.8 x 34.2 x 37 inches
Capacity: At least 260 lbs
Extras: 3/8th inch foam pad​
---
Pros
Big like a tent and comfy.
Configurable to become a lounge or a chair.
Prevent mosquitoes, especially good for pregnant women.
Rainfly in some models keeps you dry in wet weather.
Double size version is available.
---
Cons
Awkward design.
Not the best ventilating mechanism.
Too big for hiking. It would be like having a 3 foot by 3 foot box behind you.
---
Our Ratings
It's a little heavy and a little too big to pack along on a hike, but if you are going camping at an easy to get to campground, then this is a good cot for it. Set up is simple, just unfold it and its 3 legs, place the mattress on top of it, and it is ready for use.
This cot has a spring coil suspension and comes with a mattress or a sleeping bag on top of it, it's hard to tell the difference between this cot and your bed at home. It is really that comfortable. I even use this cot at the house when friends or family come over and no one has ever complained. I like this setup for just about all situations.
Weight: 19.6 lbs
Width: 30 inches
Length: 80 inches
Height: 15 inches
Packed Dimensions: 39.6 in. x 30.7 in. x 5.5 in
Capacity: At least 300 lbs
Extras: Foam Mattress
---
Pros
Simple setup.
Comfortable like your bed at home.
---
Cons
Heavy and large to take backpacking
May need to replace one of the springs if you use it a lot.
---
Final Thoughts
There are a lot of great camping cots out there. These are my choices for top 5. And the winner is the EVER ADVANCED Folding Camping Cot. It fits all my needs. The weight is manageable, it is comfortable and just the right size for me. Out of all the cots I own, this is the one I use and recommend most.
The easy cleanup and ability to wash the canvas is a huge plus. While some other cots have features that I really like, this one has the perfect mix of usefulness, comfort, portability, and price for my needs. It is well worth the effort to assemble it the first time.
I still have the first one I bought and still use it regularly. It's my choice as the Best Camping Cot for all occasions.
Share with me your thoughts in the comments section. If you like this article, please share it with others. Until next time, enjoy!