Sometimes when the sun is shining and the weather is fine, you don't want to encase your poor feet in a big old pair of hiking boots, you want to let them go free to enjoy the rays too! Or maybe you like to engage in a bit of rafting or kayaking and you prefer a pair of sandals instead of a soggy pair of shoes.
Everyone knows that Chacos have a big and loyal following but the debate is all about whether you should go with the toe strap or not. Here I'm going to look at the pros and the cons of going toe strap-less.
Table of Contents
The benefits of an un-strapped toe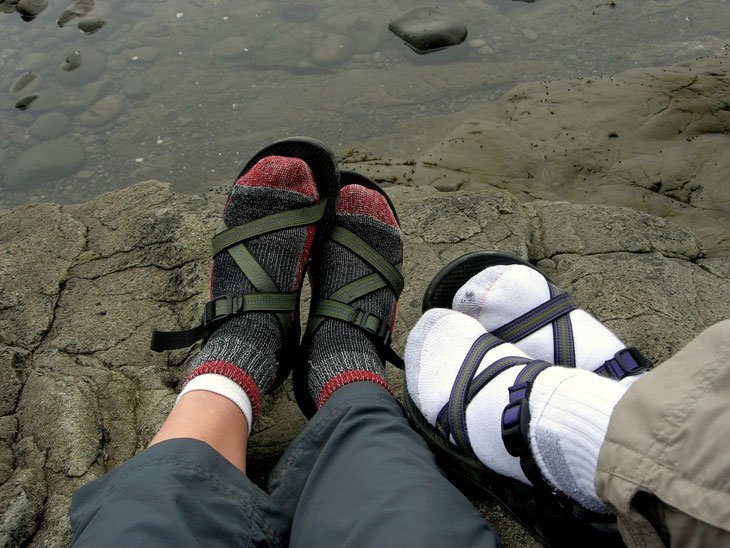 The greatest benefit of not having the toe strap is that it just makes it that bit easier to get your Chacos on and off. If you're looking for a pair of sandals to wear about camp in the evening or for walking around town, then a pair without the toe strap will be fine.
Another advantage of choosing a model without the toe strap is if you choose to make that dubious fashion choice of wearing your sandals with a pair of socks. Obviously a toe strap is going to make this more difficult.
There are solutions for wearing toe strap Chacos with socks. You can either simply tread the toe strap down or you can find yourself a pair of socks with separated toes.
For me, treading the toe strap down is fine from time to time but, to be honest, if you're going to be doing this often, I'd probably recommend just going for the ones without a toe strap in the first place. It's just more practical.
If you are looking for a pair of sandals for water-based sports like rafting or kayaking, I think a pair without the toe strap is fine too. There's no particular need for the toe strap when you're paddling so going toe strap-free won't be a problem.
Why You Might Want To Strap In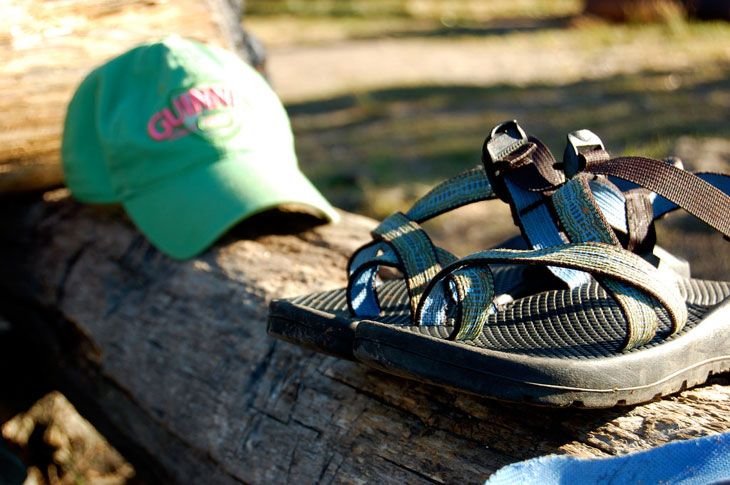 The debate becomes more contentious when we start to talk about a pair of hiking sandals. Chacos are designed to be rugged and durable and are the perfect option to wear on the trail. But what about the all-important toe strap?
The general consensus is that the toe strap helps to keep your foot in place and gives you much more control. This is great for the more demanding types of hike you might go on where you need to scramble up slippery tracks or walk on loose scree and so on.
However, if you are more used to gentle hikes in flat country where you are less likely to need that extra support, then the toe strap might not be necessary.
Another consideration is the dreaded blisters. Blisters are more than just an irritation, they can absolutely ruin a hike if they strike. Blisters come from rubbing so a properly adjusted pair of Chacos with a toe strap may move less and rub less – which can potentially reduce blisters.
Bear in mind, though, that any Chacos will need proper wearing in and I highly recommend you not to set off on a hike in a brand-new pair of Chacos – or you'll regret it.
Personal Choice
In the end, this question come down to two basic considerations. The first is what you intend to use them for; the second is simply personal choice.
There are plenty of Chaco enthusiasts who absolutely swear by the versions with the toe strap for the reasons already mentioned, namely that for serious hiking, the strap helps secure the foot in the sandal and gives the wearer extra support.
There are many others who would say that they are perfectly comfortable doing any kind of hiking in Chacos with no toe strap and that they prefer the comfort and ease of the models with nothing holding their big toe in place.
Others still will claim that the toe strap "strangles" their big toe making it uncomfortable to hike in them for any length of time – although this could also be a question of making sure your Chacos are properly adjusted. Click here for a demo on how to adjust your Chacos.
In the end, the best advice is this: the toe strap is designed to secure the foot in place to stop you slipping and sliding about so if you think this is important for you, then you should probably try the ones with the strap. If you don't think it's a big deal, then go without – it's up to you!
Conclusion
The answer to this question, as when buying many types of kit for outdoor use, is that it depends on what you want to use them for. Think about whether you primarily plan to wear them walking around town, for kayaking or if you plan to hit the serious trails in them.
After that, it depends on you. Probably the most important thing is to buy a pair that you feel comfortable in. I would recommend toe straps for serious hiking and no toe strap for casual wear or water sports. Other than that, go with what you feel good in!
In favor of toe straps
Hold feet more firmly in place
Good for serious hiking
In favor of no toe strap
Easier to put on or take off
Better for wearing with socks
Fine for town use, water-based activities or light hiking