I'm never happier than when I have the chance to head off into the wilderness for a camping trip and I guess you're probably the same. But do you know how many types of camping there are? Here I'll introduce some of the various ways you can get closer to nature.
Table of Contents
#1: Tent Camping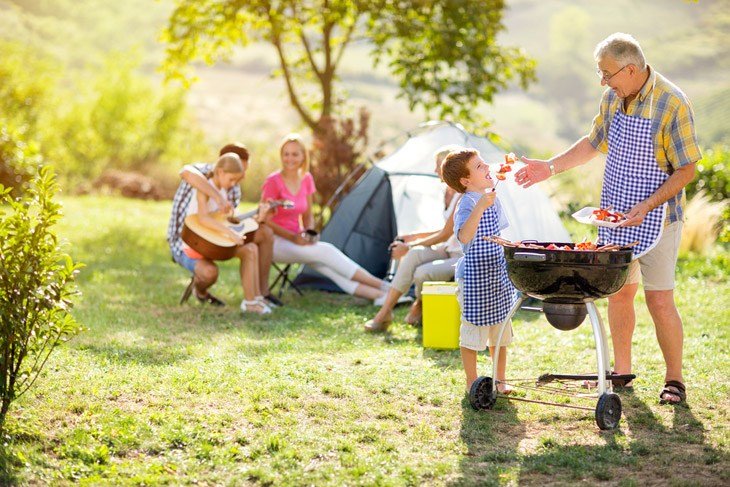 This is the most basic kind of camping and involves heading off into the countryside, pitching a tent and sleeping there for one or more nights. It's possible to stay on a campsite, in the woods or on a beach among others.
This is a good option for families with children as the kids get to experience being outside while learning about nature. It is also good for family bonding and learning to work together as everyone, even the smallest children, can be assigned responsibilities. For the same reason, it is also appropriate for corporate teambuilding.
Read about The Best 6-person Tents For Family Camping
One of the most important aspects of tent camping is choosing the best place to pitch a tent as this can have a big impact on comfort. A tent needs to be pitched on flat ground and a site without rocks or roots is also necessary for a comfortable night's sleep.
Another important aspect of site selection that is often overlooked is consideration for where water will go if it rains. The best site for a tent is one that avoids areas where water will collect in a storm. Pitching tents in gullies should be avoided as they can become hazardous in heavy rainfall.
One of the pleasures of tent camping is preparing and eating food outside and surrounded by nature as a group of friends or as a family. However, care should be taken to dispose of food and waste properly as the smell of food will attract animals to your camp.
---
#2: Backpacking/Hiking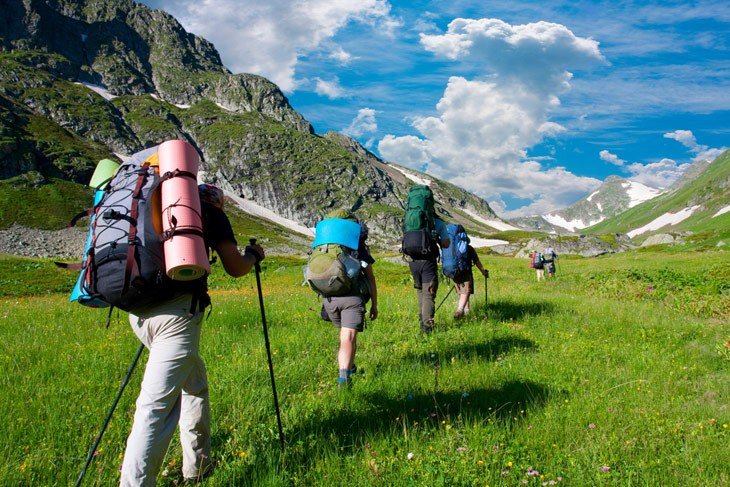 Backpacking or hiking involves spending the day walking, carrying everything you need on your back, and then sleeping outside, generally in a tent or in a hammock. The duration of this kind of trip can be anything from one night to upwards of several months.
One of the most famous backpacking trails in the world is the Appalachian Trail in the eastern US, which starts at Springer Mountain in Georgia and finishes Mount Katahdin in Maine. It takes around five months to hike and those who complete the whole trail in one go are called "thru hikers".
The advantages of this kind of camping is that it allows participants a certain level of self-sufficiency and permits hikers to spend time away from the stresses of the modern world and in close proximity to nature.
You should plan your trip properly before setting out and you should inform somebody of your plan so that if anything happens and you don't return, somebody will be able to alert the relevant authorities to initiate a search.
Another important consideration for such a trip is what you choose to take. Obviously, as you are going to be carrying everything you need on your back, you want your gear to be as light as possible. You should consider the weight of your backpack and other equipment as well as the type of provisions you take.
---
#3: Survivalist Camping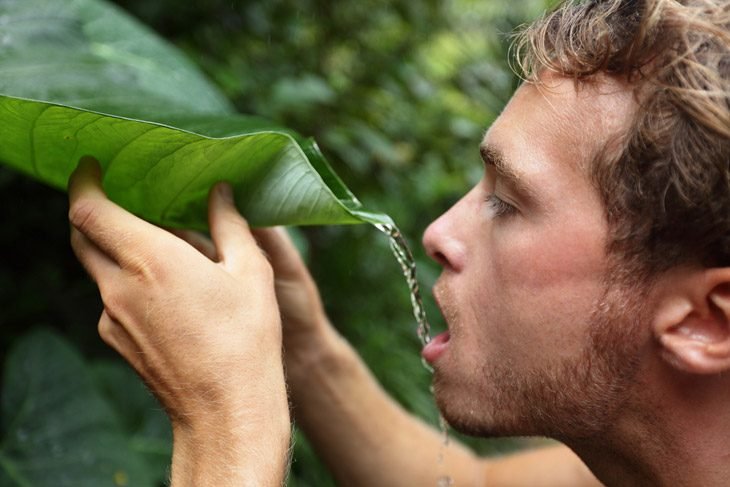 This is the most extreme form of camping and should only be attempted by extremely competent and experienced campers. Essentially, the only aim of this type of activity is to be completely self-sufficient for a certain amount of time – and then to return alive!
There are two main types of survival camping, "base camp" and "walk out".
In "base camp" survival camping, campers typically walk to an isolated spot where they make camp and survive on what they find there for a certain amount of time before returning.
Food is taken from the forest by fishing or trapping as well as by gathering nuts, berries and edible plants. At the same time, it may be necessary to avoid larger, dangerous animals that could pose a threat.
In "walk out" survival camping, a participant is typically dropped at a certain place in the wilderness and the goal is to walk back to civilization. This is perhaps the most challenging type of camping as the camper needs to find a new source of food and water every day.
This kind of camping requires advanced camping and survival skills. It is possible to attend courses to learn how to survive in the wild prior to attempting it for real. For an example of the skills necessary, watch this video:
It is suitable for advanced campers who want to put their skills to the ultimate test but also obviously entails a real element of danger. Proper planning is absolutely necessary and it should never be attempted by novices.
---
#4: Canoe Camping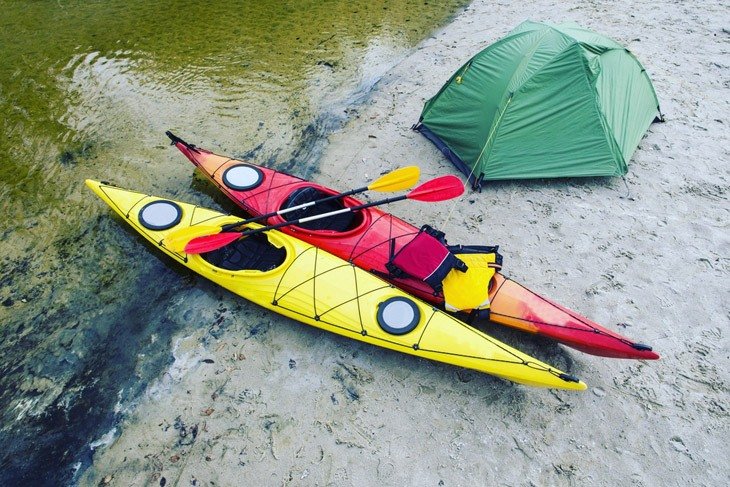 Canoe camping combines much of the appeal of backpacking, such as freedom and self-sufficiency, with several added advantages associated with water travel. One main advantage is that as participants travel by canoe, weight is not so important so it is possible to carry more equipment.
As well as this, travelling on water potentially allows participants to travel further or to reach places otherwise inaccessible to hikers travelling on foot. This means that it can be easier to get further away from civilization and into the true wilderness by canoe.
There are many types of trip available to canoe campers and before choosing a destination, you need to decide on your skill level as well as what it is you are specifically looking for, whether that be fishing, scenery, wildlife or simply to be away from other people for a few days.
For safety, canoe camping trips are best attempted by a minimum of two people in case something goes wrong so someone is there to help, although solo trips are also possible. This type of camping is also suitable for families.
One of the main things to be aware of when participating in canoe camping is that rainfall can significantly change the character of a waterway. A gentle stream can become a potentially dangerous raging torrent after heavy rainfall.
This is an excellent way to enjoy nature and the peaceful solitude of water travel can be the perfect way to relax and unwind – you just need to make sure you are aware of the conditions and the weather forecast before you leave and make sure you prepare properly.
---
#5: RV And Van Camping
Camping with an RV or a van combines the pleasures of being outside and close to nature with the mobility of having a vehicle. While some people deride it as not really being "camping" at all, it is suitable for people who like a little luxury when they camp and is popular with older people.
The advantages are clear: When travelling with your own vehicle, you are much more mobile and anywhere you can park becomes your campsite. Furthermore, you are protected from the cold and from bad weather and vehicles can have cooking facilities, fridges, or bathroom facilities available.
The disadvantages associated with this kind of camping is firstly that vehicles cannot go everywhere somebody on foot or travelling by canoe can go so access to true wilderness is more limited.
Secondly, some people would argue that if you are sleeping in a van or an RV, you are not really camping at all. You are enclosed in your vehicle and are cut off from nature. This comes down to personal choice and some people obviously prefer a certain level of comfort.
RV or van camping can open up the whole country and you can set off on short weekend trips or embark upon extended road trips where your imagination is your only limit.
Conclusion
I hope you've enjoyed my round up of some of the main types of camping – although of course there are many others. Which one is your favorite? Perhaps you're inspired to try something new.
If you like this article, why not leave me a comment or share it with your friends!​