You love hiking, you're a keen cyclist, you spend all your weekends fishing or you're preparing for a globetrotting trip around the world and you need to find a waterproof bag for your stuff.
There's such an abundance of kit available that it's hard to choose – so I've put together this guide to help find the best waterproof backpack for your needs.
Our Top Picks
**You'll find our more detailed reviews below, but you can also click the links above to see current prices or read customer reviews on Amazon.
Table of Contents
Buyers Guide: How To Choose The Best Waterproof Backpack
When you buy any important piece of kit there are always lots of variables to consider. Here I give you a run-down of the most important issues when choosing the best waterproof backpack for your needs.
Square Pegs For Square Holes
Whenever you are about to invest in any new gear, the first point to consider is what you intend to use it for. In the case of backpacks, there is no "one-size-fits-all" solution and you need to be clear about why you are buying it before you hand over your cash.
There are many different uses for a backpack and first you need to decide if it is mainly for long hikes, traveling, shorter hikes, rafting, fishing, cycling, or just for school or work as these activities all have vastly different requirements.
Keeping the backpack's primary use in mind, think about which of the following features are most important to you:
"Waterproof"? How "Waterproof"?​
There are basically three levels of "waterproofness" which are all suitable in different conditions. The first level is water resistant which basically means the backpack will be able to withstand light rain or ocean spray – but not much more.
This might be ok for a casual bag you use when cycling to school or work but if exposed to anything more intense, the water will start to penetrate your backpack and your equipment will get wet.
Backpacks claiming to be waterproof offer more resistance. They will keep your belongings dry in conditions of sustained and heavy rain as well as when placed on wet ground.
These kinds of bags are suitable for hiking or cycling in very wet conditions but you won't want to be wading through any rivers or taking them swimming as water can still find its way in.
If you partake in seriously wet sports like rafting or canyoning, you will need to invest in a 100% waterproof model. These bags don't let any wetness in no matter how much water they are exposed to and can even be submerged without leaking.
You can put your expensive camera in one of these and jump over the side of the boat with it on your back to go snorkeling and you'll still have nothing to fear.
Even for something like kayaking, when a bag might fall over the side, they are ideal as they tend to float.​
Other Considerations
Size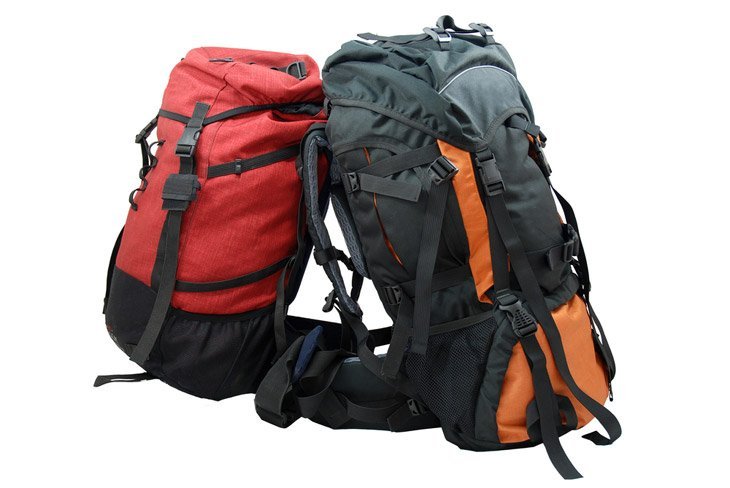 Beyond how resistant to water the backpack is, there are other factors to take into account. Probably the most obvious one is size. It goes without saying that you need to be able to fit all your gear into your bag so you need to choose a bag that allows you to pack everything in.
If it is going to be used as a day bag for short hikes or one-day cycling trips you can get away with something smaller. For use on extended hiking trips or long-term travel you will need something bigger.​
---
Conditions
You also need to choose something well adapted to the conditions where you plan to use it. If you often head into areas you know in advance will be tough and wet, you will need to select your backpack accordingly. For casual use, something less rugged is suitable.
---
Weight
The weight of a backpack is a very important point to bear in mind. If you will be covering long distances carrying everything on your back, then you need your gear to be as light as possible. Your backpack is an important part of this and you need to choose one that is as light as possible.
---
Style
Another area you won't want to overlook is the style. You don't want to turn up at your office looking like you're ready for covert operations; conversely, you don't want to be out in the bush looking like you're ready for a business meeting.
Or maybe you do! But that's a personal choice and it's up to you; but at least it's something for you to think about.
---
Storage Options
Another point to remember is the configuration of pockets and compartments inside which will make it easier to organize your stuff.
---
Price
Finally, of course, you need to think about price. For the casual user, something more inexpensive might be appropriate – but for someone who is exposed to extreme conditions on a regular basis and who also expects a decent lifespan, you may need to invest in something with a higher price tag.​
Product Reviews
Here I take a look at some of the best waterproof backpack options currently available.​
Top 5 Waterproof Backpacks
**You'll find our more detailed reviews below, but you can also click the links above to see current prices or read customer reviews on Amazon.
---
Our Ratings
This 100% waterproof bag from Såk Gear is sold as a backpack for all activities. It's spacious inside and also comes in a range of bright and funky colors making it one of the most aesthetically attractive.
Being a 100% waterproof model, this bag is ideal for activities where keeping your belongings dry is the primary concern. That means this bag is a good choice for rafting, kayaking or canyoning.
It is also comfortable to wear and not too bulky which would make it a good choice for skiers or snowboarders who want to look cool on the slopes at the same time as protecting their stuff from the elements.
One of the big drawbacks of this bag is that it doesn't have a great deal of pocket options to divide your kit up so you just have to throw everything in together. This makes it less than ideal for anything more than short hikes when you want to keep your kit organized in your bag.

There is a splash pocket for valuables but this pouch is less than 100% waterproof so you won't want to use it to store valuable documents like a passport in case it gets wet.​
Overall this is a good choice for someone who wants a 100% waterproof backpack that looks good but doesn't need a lot of pouches and pockets for longer treks.
Pros
Funky design, looks cool
Comfortable to wear and not too bulky
Good price
Cons
Lack of storage options, basically just one big pouch
---
Our Ratings
This smart-looking waterproof backpack, available in several different colors and specially designed for Apple, could be a good school or office option. Its roll-top design ensures everything inside stays dry and customizable straps ensure it is adjustable for comfort whether walking or cycling.
Where this backpack stands out is in its combination of pockets and clips. Inside you will find a pouch made to accommodate and protect a 15" MacBook with another one for an iPad. It also features external pockets and webbing ideal for water bottles as well as a security zipper pouch for valuables.
The bag looks professional and you won't look out of place turning up for school or at the office with this, but at the same time it is tough and rugged and will keep your electronics and papers safe and dry in moderate conditions.
I have some concerns about this backpack's ability to withstand more extreme conditions, however, and while it will be fine if you get caught out in the rain on the way back after school or work, it's probably not the best option for serious outdoor activities such as hiking in the wet.
This is not the pack to choose if you are looking to engage in water-based activities such as rafting or canyoning.
Pros
Clever design to protect electronics
Configuration of multiple pockets for easy storage
Cool look and color options
Cons
Vulnerable to leakage in very wet conditions
Relatively high price tag
---
Our Ratings
This slightly larger pack can be used as a larger day pack or a smaller sized main backpack for those who wish to travel light.
It has plenty of pockets and pouches so you can keep all your stuff separated out inside. It has a bit more space inside than some of the others and is well designed to fit the body. It also includes a waist strap, all of which makes this a good choice for hiking or traveling.
However, this backpack is also slightly heavier than some other options on the market and those wishing to cut down on the weight might find this to be an issue.

The main problem with this pack is that its claim to be a waterproof backpack is slightly dubious. It can definitely handle light to moderate showers but if you are caught in heavy rain you might worry about your belongings.
This is not a bag that will keep the water out if it ends up in the river or even if it is heavily splashed so if you want a bag for rafting or other similar activities, this is probably not the best choice for you.
The price is very reasonable but the quality of the item is also reflected in this and it may not stand up to long-term rigorous use.
Overall, this is one of the most versatile backpacks and is a good option for an affordable, general use backpack; but if you want something for more specialized and water-intensive activities, you should probably choose something else.
Pros
Versatility
Price
Comfort
Cons
Not fully waterproof and can leak
Not the highest quality
---
Our Ratings
This is a backpack designed for someone who participates in activities where 100% protection from water is required. The roll-top double seal design ensures no water can enter the bag when it is closed and it will also float when dropped in water.
It is a well-designed backpack made from high quality material. On the outside, there is an elasticated mesh for storage and the back features an air-flow design for added comfort.
This backpack also features a waist belt which is an important feature for a bag used in trekking as it distributes the weight of the bag onto the hip and reduces backache during longer walks.
This backpack is also available in a range of bright and interesting colors to suit any taste and the price is extremely reasonable for such a well-made piece of kit.
One drawback with this backpack is that it lacks a good range of internal divisions but it has a good size and shape which means you can arrange your belongings in an ordered way to a certain extent.
Overall this is a versatile bag which is best suited to extreme wet conditions such as rafting or kayaking but could also be used for hiking or cycling as well as a school/work bag.
Pros
Comfortable and good shape
Good choices of different colors
Reasonable price
Cons
Lack of internal divisions
---
Our Ratings
This backpack by Voli Outdoors has taken the design of a simple dry bag and turned it into a more versatile backpack which can used for different activities.
One thing I like about this option is its simplicity of design. If you want an uncomplicated bag where you can store your stuff with no frills, then this could be a good option.
It is a particularly good choice for any activities where you need maximum protection for your gear and it is suitable for fishing, diving, kayaking or rafting. It is small and portable and if you just need an inexpensive bag to do a job, you may well consider the Voli.
However, where this backpack loses points is in its suitability for other activities. While it does have two straps like a proper backpack, it is not as comfortable as a more specialist choice and so this wouldn't be an appropriate model for trekking or cycling in my opinion.

Further, the shape of this bag makes it unsuitable for carrying a laptop, papers or books. In fact, you can see from its appearance that this is not designed as a school or office bag at all.
In sum, this is an excellent inexpensive option for specific uses where the primary concern is protection against water but this backpack doesn't offer the same versatility as other models available and would be unsuitable for some uses.
Pros
Excellent price
Simple and effective
Cons
Not comfortable for treks, etc.
Lack of versatility
---
Conclusion
There are so many options available and your choice of backpack really depends on your needs and what you plan to use it for.
A good all-round option would be the Diamond Candy backpack which can be used for most activities as long as it doesn't get too wet. If you want something super dry yet inexpensive and simple, the Voli might be the one for you.
For those looking for a bag primarily for school or office use, you might be happy with the Phantom Aquatics Premium. The style-conscious who also need a 100% waterproof bag would probably be best off with the Timbuk2 model offering.
However, for me, with its combination of style, price, versatility, ruggedness and complete 100% waterproof ability, the clear winner and best waterproof backpack currently on the market is the BackSak Waterproof Backpack.