One of the most important things you need to have when you're out in the wilderness is to have a capable knife. A machete is one good example of a good bladed weapon to have.
But, this is not exactly the right tool to have for all occasions. Skinning an animal you brought down or fashioning a length of rope for use would make a machete a very unwieldy tool.
This is when you need a more specialized knife, a boot knife to be exact. They may be small but they can come in real handy when the situation calls for it.
Our Top Picks
**You'll find our more detailed reviews below, but you can also click the links above to see current prices or read customer reviews on Amazon.
Table of Contents
What Is A Boot Knife?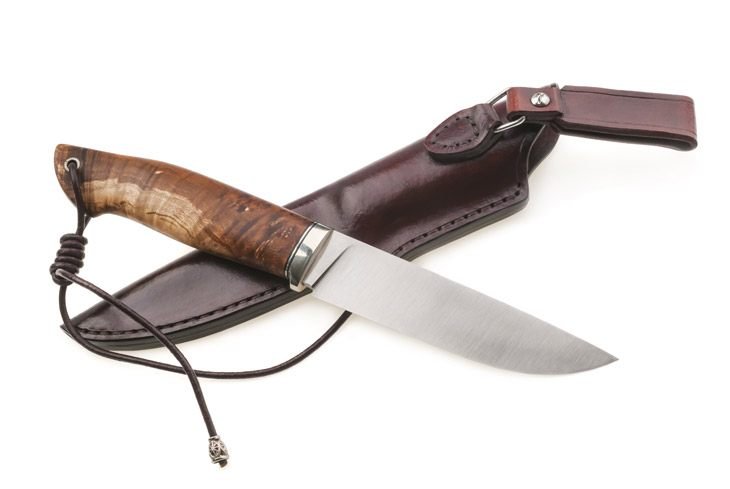 First off, what is a boot knife? A boot knife is typically a short bladed implement that you can easily store or conceal within the folds of your boot. This means your boot knife will usually come at any length in between 3 to 5 inches.
These short compact knives are highly durable and can perform a lot of small, important tasks in and around the camping area. Some people would argue about a dedicated boot knife and just bringing along a multi-function tool.
The bottom line is: multi-tools are designed to do a wide variety of tasks but they can't be the best at those tasks at all. A dedicated blade acting as your boot knife is specifically designed to perform certain tasks and do it best.
Now, not all knives are made equal. And not all manufacturers are good at constructing boot knives. Some would rather eschew the whole thing and create knives for other purposes. But, there is a select niche of these companies producing boot knives for people like us. Still, any knife can be converted into a boot knife as long as you know what to look for.
What Features To Look For A Boot Knife
Here are some features you might want for your boot knife:​
Durability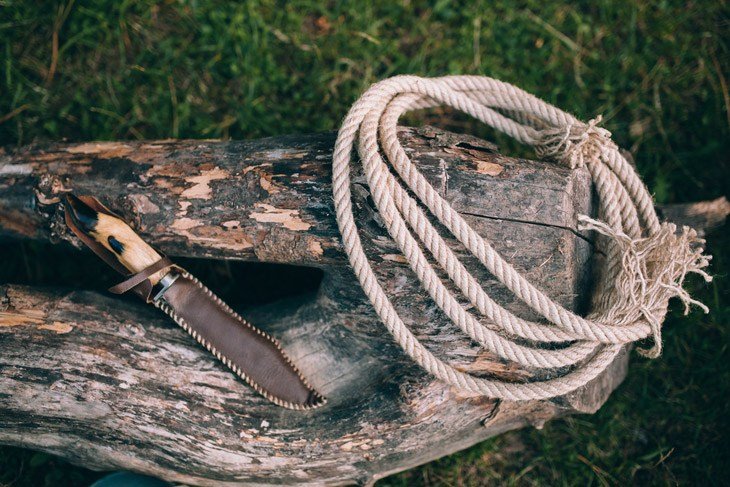 One of the most important things to look for in a boot knife is its ability to handle any and all types of conditions. It should be able to stand up to adverse conditions in the wilderness. For that, you need to make sure you have one that is strong enough not to break and one that does not corrode over time.​
---
Function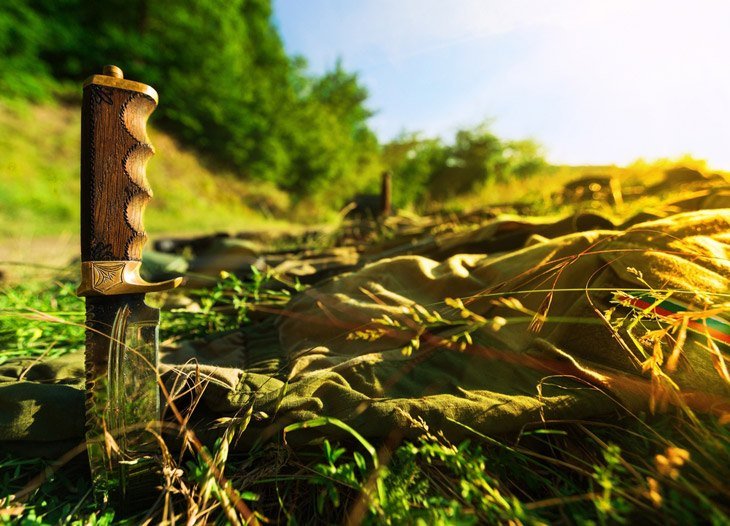 Like most knife collectors, I appreciate a well designed knife. But sometimes, form over function does not go well when you're out in the woods.
So, let's get one thing clear: never choose a knife just because it looks pretty. Try to make sure you look beyond basic aesthetics before choosing a boot knife because when the going gets tough, a pretty knife can't always cut it.​
---
Size And Weight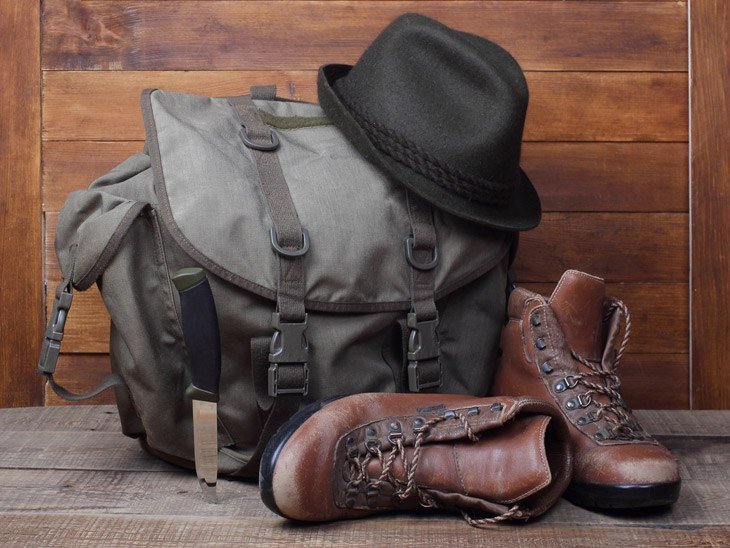 Boot knives are usually used within the camping area or to do small tasks when you're out. In most cases it remains concealed. So, one of the most important features a boot knife has to have is a high level of portability. This is where size and weight matters.
As a basic rule of thumb: the smaller and lighter your boot knife is, the better. Just make sure you don't sacrifice the quality of the knife for convenience.​
---
Safety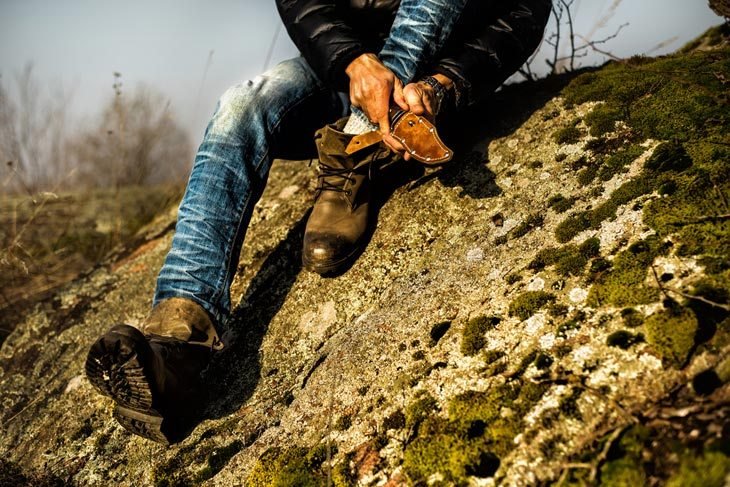 Last but not least, your knife should be safe enough to handle. The handle has to be textured to afford some grip and try to get one that also has a hilt guard on it so you can stop your hand from slipping onto the blade. That's one experience you never want to have.
Another safety feature your boot knife has to have is a sheath. A leather sheath is preferred over a plastic one as leather allows for some give when your knife is moving within it. A plastic sheath is also prone to breaking should you fall and land on it or you drop it from a certain height. Plus, leather just looks so good!​
So, Which Boot Knife Is The Best?
**You'll find our more detailed reviews below, but you can also click the links above to see current prices or read customer reviews on Amazon.
Now that we've defined what a boot knife is and what characteristics to look for in one, let's take a look at some boot knives you might want to include in your camping gear.
Our Ratings
We have the military grade boot knife from MTech USA. It's around the same length as the Smith and Wesson but has another feature that sets it apart from the competition.
Now, if it's good enough for our fighting men, then it's good for you.​
The MX-8059 is made of thick 440 steel. This lends to the strength and durability of the knife. There's also an added feature to this knife, it has serrations running half the length of both edges. This makes the knife even more useful as you can now use it to also saw through materials like rope or bark.​
The G10 handle this knife comes with offers the most secure grip even in the wettest conditions. This is a crucial feature as you'll never know what to expect when you're out in the woods.​
At 9 inches full length, this knife is still pretty easy to conceal within your boot or inside your pack. And although it's one of the biggest boot knives on the market today, it still manages to be very light.​
I'm still not too confident about the leather sheath it comes with though. You're actually better off buying or fashioning your own sheath than to use the one it comes with. Still, at the price it comes with, the MX-8059 can be considered a very affordable boot knife that you definitely should have with you at all times during your trip.​
Pros
Military grade construction
Serrations on both edges allow you to perform more tasks with this boot knife
Blade is made of thick 440 steel
The G10 handle provides you with excellent grip even under the wettest conditions
Cons
Comes with a sub-standard sheath.
---
Our Ratings
The very first advice you'd probably get from experienced outdoorsmen is to go for the Smith and Wesson brand. They've already proven themselves to be highly durable, very useful and very practical.
And I totally get why most expert outdoorsmen would choose this. It's a very beautifully crafted blade and it does what it promises to do in whatever conditions you subject it to. The 4 ¾ inch blade is long enough to perform a variety of tasks without becoming a hindering factor when storing it away in your boot or your bag.
The SWHRT9B's handle is textured and provides you with a good grip which is perfect for cutting, slicing or stabbing through the thickest materials or meat!
The only downside to this knife is that it is the longest and heaviest in this list. This means it can be a bit of a struggle to conceal in your boot. You'll have better luck just attaching this to your waist or keeping it in your bag. At its current size, why not just get a regular knife, right?
Some people immediately shy away from well established brands because they think that the name comes at a premium. Surprisingly, the Smith & Wesson SWHRT9B can actually be considered as priced mid-range. So, I have my eyes on this product.
But, we have to move on to what else is offered in the market before making a final decision on what to get.
Pros
The SWHRT9B comes from a very well known company, immediately raising its trustworthiness
A very affordable price!
Designed specifically to handle adverse conditions in the wilderness
Cons
The largest, longest and heaviest boot knife in this list making it hard to conceal and carry around.
---
Our Ratings
To say that the Columbia River Knife and Tool (or CKRT) is a beautiful piece of work is an understatement. It is a very simple knife by design which makes it highly utilitarian. The textured handle makes it easy to hold and there's also a lanyard hole if you want to attach it to the end of a rope.
The High Carbon Stainless steel makes this blade extremely easy to clean when you're done using it. The leather sheath it comes with is perfectly matched up to the knife and can be stored anywhere safely. There is absolutely no play within the sheath for the knife to move around which is usually one of the reasons this type of design would slip out.
If you paid attention to the name, you'll get the idea that this knife is just at home in dry conditions as it is in the wettest conditions you subject it to. The Micarta handle ensures full grip at all times ensuring full safety while using it.
What can I say? It's a beautiful knife.
Perhaps the only downside to this is that it doesn't have any hand guards to prevent your hands from slipping onto the blade by accident. But, more experienced users would advise you to jam the edge of your index finger on the notch just below the blade to act as a stop when using the Columbia River Knife and Tool (CKRT) 2075.
Pros
Probably the most aesthetically pleasing blade on this list.
Micarta handle adds to the beautiful design
Designed for operation even in the wettest conditions
Cons
No hilt guard which can lead to potential accidents
The CRKT2075, is hard to secure within the sheath causing it to fall out on several occasions under rigorous conditions.
---
Our Ratings
The Old Timer may look like a very unassuming knife but it is just as useful as all the others on this list. The basic appeal of this knife is for its seemingly antique look that most outdoorsmen appreciate. It harkens them back to the old days when they'd just pick up whatever knife was available and bring it with them when they venture out.
The Old Timer is a good boot knife. It performs well and is durable enough to handle most tasks.
This is also very nice to hold in your hand. It helps that it has wooden handles instead of the usual rubber or carbon fiber handles that come with knives offered today. This adds to that vintage look and feel. It also sports a very simple design.
But don't get fooled by its unassuming look. It is a very sharp blade that you can use to slice or stab into whatever you have in front of you whether it's meat or cutting through ropes.
The only downside to the Old Timer is that it looks better than it performs.
Still, it's a good knife to have in your boot when push comes to shove.
The lack of a guard on the handle also makes this knife sit loosely inside its sheath which can potentially be dangerous if you're moving a lot and it somehow comes loose.
Pros
Looks and feels like a vintage boot knife which is appealing to outdoorsmen who love antiques
Wood grip feels great when handled
Cons
Looks too much like a sharpened butter knife
Has a high chance of falling out of its sheath
---
Our Ratings
By far, the Schrade SCHF19 is the smallest knife in this list, making it also the most concealable boot knife to own.
But, being the smallest doesn't necessarily mean the most inferior. In fact, the Schrade SCHF19 can be used in a variety of ways that wouldn't be applicable for the others included in this list.
For example: It is a lightweight blade and is perfectly balanced. If you need to, you can actually turn it into a throwing knife for hunting small game.
The Schrade SCHF19 is also perfectly symmetrical. The lanyard hole on the handle can help you tie it to the end of a long pole effectively making it into a spear.
This gives it a little edge over the other knives as you now have a handy spear that you can use to catch fish with. Once you're done, you can remove it and prepare your meal with it like an ordinary knife.
Preparing meals from small game you've taken down doesn't have to be as messy since it comes with a blood groove which can help channel the fluids away from the side of the knife. Cutting into the meat should be an easy task with this knife.
The high carbon stainless steel blade is very easy to clean. A quick wash with water should help remove any and all material stuck to the blade easily.
How small is the Schrade SCHF19? It's small enough to fit in the palm of your hand!
Pros
The smallest boot knife in this list, making it the best one to conceal and carry around
Has a hilt guard to minimize chances of your hand slipping onto the blade when handling it
Small enough to use as a throwing knife or use as a spear point
Cons
A bit too small for larger hands
Too small to handle other tasks like protecting yourself from large predators
---
The Winner
If I were to choose which knife I'd have tucked up in my boot, I'd have to go with the MTech USA Xtreme MX-8059 Series Fixed Blade Tactical Knife. It has the perfect length, it is light enough to carry around without adding too much weight and it has the serrated edges that add to its overall functionality.
And to a knife collector, not only is this boot knife the most functional in the group, it is also the best looking among all selections. And that certainly helped me choose it over all the others.